Written by Julia Condon
A place notorious for its long and bitter winters, Minneapolis breeds some of the most resilient, dedicated music fans. Among cities like Denver and Chicago, Minneapolis is carving out its place as a rising bass music Mecca. 
For industry pioneers like Jake Whaley, talent buyer and owner at Low & High, now is the time to tap into the city's rich opportunity to curate the events Minneapolis fans crave, in turn putting Minneapolis on the map for bass music fans nationwide. 
On April 21, fans will be treated to a very special Sub.Mission takeover at The Pourhouse Downtown in Minneapolis. Underground heavy hitters Kursa, Enigma Dubz, Distinct Motive, Chef Boyarbeatz, and Medicine Place will bring their distinctive sounds to the prohibition-style venue for one talent-packed Friday night event. 
In preparation for the event, we spoke to Jake about the Minneapolis music scene, Low & High's relationship with Sub.Mission, and what to expect at the upcoming Sub.Mission takeover. Read on for the interview.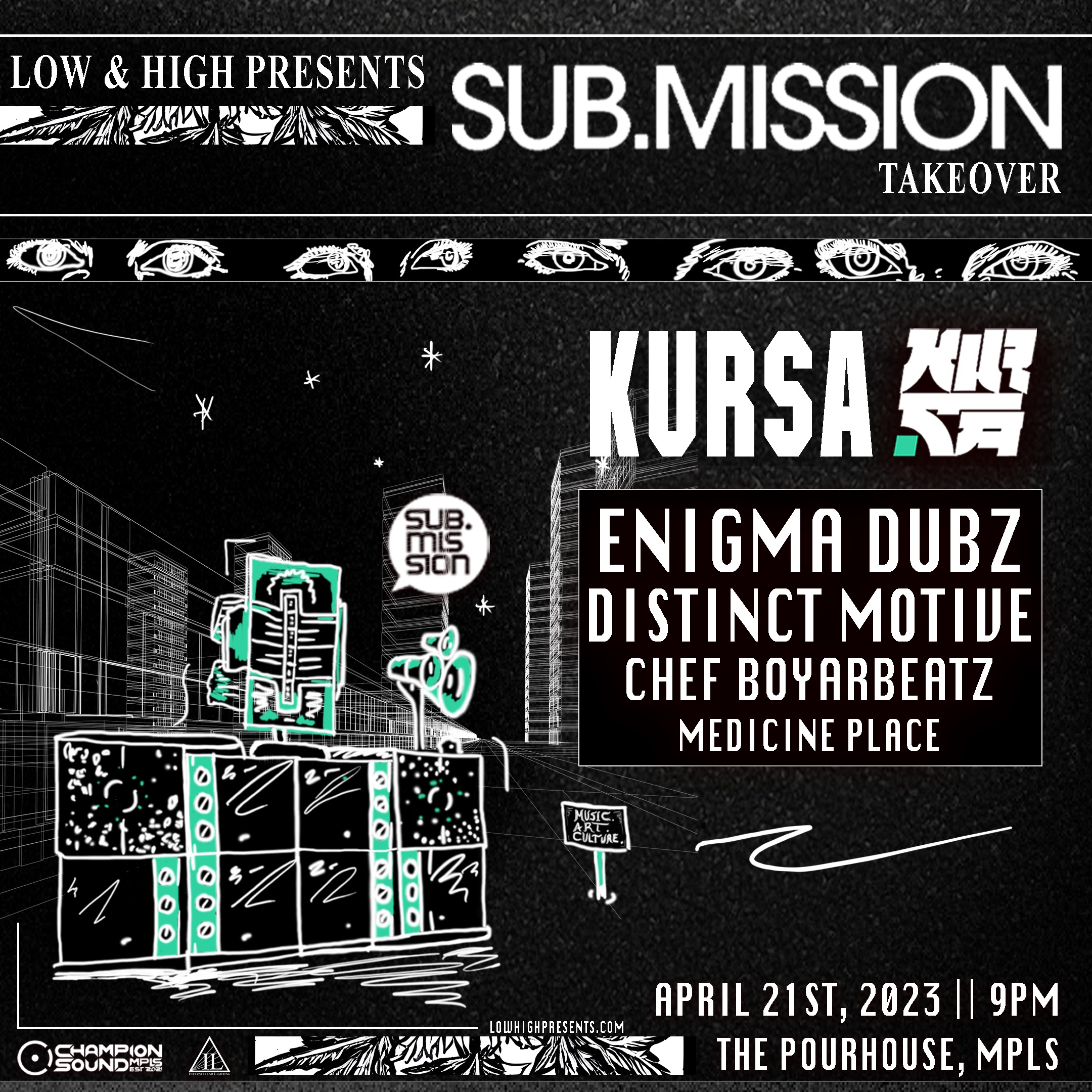 For those who aren't familiar, can you explain what Low & High is and what you do?
Low & High (L&H) is the missing puzzle piece that was lost under the couch in your living room 6 months ago only to be found when you needed it most. L&H serves as a three tier system that stretches across curated experiences, artist management, and our record label. We try our best not to limit our creative mindsets by exploring all of these avenues equally.  
Can you describe your relationship with Sub.Mission?
In an industry that is so heavily overrun with egos, popularity contests, and hype, Sub.Mission acts as a lighthouse amongst the storm and has welcomed me with open arms. Over 50% of our bookings have gone through Sub.Mission due to a large collection of their agents and artists sharing the same passion for sound, not hype which is a godsend in this industry. I can only hope that our relationship continues to flourish and grow over the years just as it has since we started working together in 2021.
What can the audience expect from this show?
The objective with this takeover was to recreate the type of experience that you would see 5-10 years ago. I often think about when I first started going to shows back in 2014 and the lineups were all headliners top to bottom. If you weren't there at doors you'd be missing some of the best of the best. Arguably, every single name on this lineup is a headliner and is actively touring the US/EU.
On top of the lineup being over the top, we called in some reinforcements with production leads Champion Sound and Interstellar Lighting. Both of which will be debuting brand new deployments that have never been seen before in this space. We've gone the extra mile to add extra space on the dance floor for adequate appreciation of the sounds and systems being run. To top it all off, we will be showcasing a nice array of both Sub.Mission and Low & High merch on site as well.
What makes the Minneapolis music scene special?
Minneapolis has such an appreciation for live music. Promoters here are constantly showing fans appreciation for their dedication. On any given weekend you can find multiple shows taking place featuring different genres. 
Earlier this month we had potentially the worst snowstorm we had experienced all season. It was one of those storms your parents tell you about from the 80s that knocked out power, shut down highways, and kept everyone locked inside. Yet somehow the Minneapolis scene prevailed and hundreds of people joined together in a warehouse with bins stacked and Oldgold b2b Commodo b2b Hebbe b2b Wraz b2b Hypho with Hypho on MC duties. The drive home took me nearly 90 minutes when it should have been 15.
Any other upcoming events you'd like to plug?
The entire initiative behind what we do is to inspire creatives and welcome new faces.
We host our free/no cover OVERLOWD series at The Exchange once a month featuring some of our favorite selectas. The first two shows in this series were Hypho & Wraz. Coming up on May 11th, we have Molokai coming to treat Minneapolis proper with another free, no cover event in an attempt to welcome new faces to our community.
Get your tickets to the Sub.Mission takeover at The Pourhouse in Minneapolis on April 21 here.