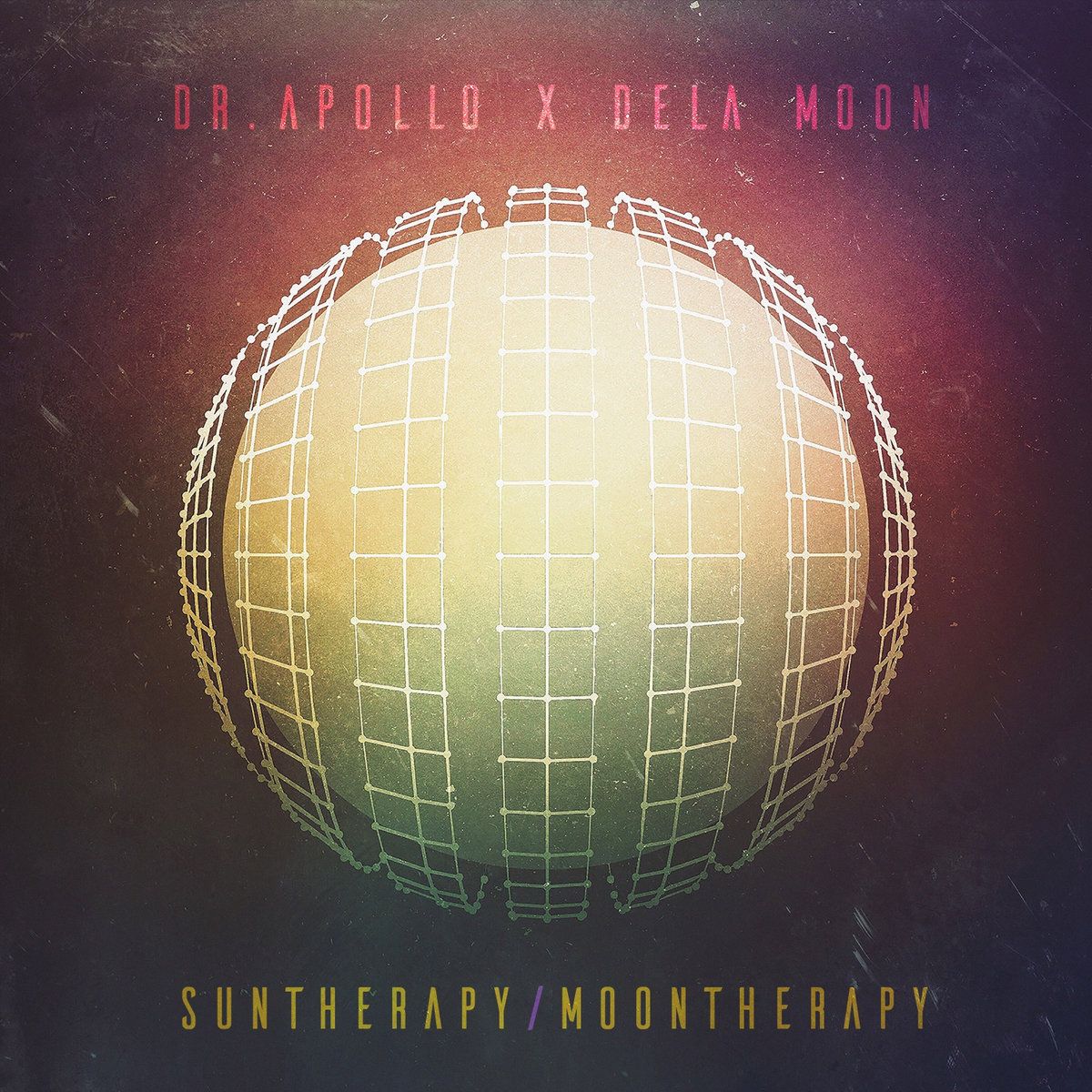 Drum and bass experimentalists dela Moon and Dr. Apollo unite to deliver the latest EP on Muti Music, a two-track tribute to the cosmic forces behind the everyday magic of human existence. Although partitioned into two discrete tunes, "Suntherapy" and "Moontherapy" play out as one cohesive and continuous piece of music - cyclically intertwined like the day and the night. The thematically arousing nature of this short EP isn't limited to its track titles. "Suntherapy" and "Moontherapy" embrace not only the divine duality that they're named to represent, but the relationships between those states. The distinctions between the high-energy halftime tunes emit from their astute symmetries. "Suntherapy" starts the cycle on a twinkling, rocking note, exuding the type of blue-skied swagger that characterizes the "West Coast" influence in essentially every genre of music. The tune is quite literally uplifting: its elements rise in pitch and intensity, like the sun's rays as they stretch ever higher above the horizon line.
"Suntherapy" fades seamlessly into "Moontherapy," its antithesis. The track is tighter. With less sonic space to bask in, "Moontherapy" embodies a more conventional, ferocious drum and bass vibe. The tune falls in the same places that its counterpart rose, symbolizing a descent into the shrouded mischief of darkness. Like day and night,  "Suntherapy" and "Moontherapy" are contrasting landscapes painted from different angles on the same sky. Through this defining metaphor, the release channels the communal power of music as well. The continuity of its tracks is reminiscent of a party that rages through multiple circadian cycles. Manifest sonically as a mesmerizing psychedelic shimmer, the effect is perhaps a nod to dela Moon's background as an organizer for the hallowed Moontribe gatherings. 
Suntherapy/Moontherapy is available to purchase and stream via Muti Music. Purchase the release via Bandcamp: https://mutimusic.bandcamp.com/album/suntherapy-moontherapy
dela Moon is a Sub.mission Agency artist - follow this link for booking information.
Follow dela Moon on Facebook: https://www.facebook.com/delamoonmusic 
SoundCloud: https://soundcloud.com/delamoonmusic 
Follow Dr. Apollo on Facebook: https://www.facebook.com/DrApolloMusic 
SoundCloud: https://soundcloud.com/drapollo